Andrew Greenbank
Preston Golf Club PGA Golf Professional

Greetings from Andrew Greenbank
Preston Golf Club - PGA Golf Professional


It has been a busy week since I last wrote to you. I hope you like my new website and have returned your entry for the free prize draw. Along with Penwortham, St Annes Old and Fairhaven, we hosted the 2nd Lancashire Classic Event. Golfers from around the UK took part in the 4 day tournament and enjoyed glorious weather.

On Saturday, Preston GC hosted the Lancashaire "v" Durham county match. Although Lancashire were 4-2 behind after the morning foursomes, they won the afternoon singles matches 10-2 to come out on top! I had a walk onto the course, and it was great to see a number of you spectating and being treated to some superb golf. Especially pleasing was how both sets of players and executive spoke very highly of the welcome, the quality of the course and the catering here at Preston.

Sunday saw the ladies P&D Guild Cup come to Preston and I was delighted to hear that our Tigress's won the team trophy. Well done ladies!

On Friday the 25th July, we will host the PGA for our 2nd Pro-Am tournament. We currently have 19 teams and we do have spaces available, so should you wish to take part and play alongside one of Lancashires top professionals please contact Andrew on 01772 700022. Alternatively, get in touch by clicking here.




My week has been busy as usual with lessons, helping members and visitors to improve their games. I have been pleased to see Lee Myers and Gav Timberlake reduce their handicaps over recent weeks. Both guys have used the Flightscope and enhanced their short game skills with me recently.

Using Flightscope swing analysis images makes understanding the problems so much easier, and as a result Flightscope is also my club fitting tool for assessing launch angles, spin rates, ball speed, swing speed and shaft profiling.

During the last week, the golfers who were fitted achieved an average distance increase of 16yds and the highest was 34 yds. In some cases the club makes all the difference but often it is a club and technique adjustment combination that completes the change. Why don't you come and see what we can do for you?
If you would like to book a fitting, then why not click here to enquire and find out more.




And so we move to one of the best weeks in golf. The Open returns to the North West at Hoylake this week, which will almost certainly provide a stern test. To celebrate this special week we have a few offers in the professional shop for you to take advantage of:
- Titleist 913 drivers - Were £259 Now £199
- Callaway clothing - 30% off
- Adidas Zero one shoes - Were £109 Now £79.99 including FREE Cap
- Puma Clothing - 20% off
- Cleveland Wedges - £50 when you trade in any old wedge.
- TaylorMade Jetspeed Drivers - Were £195 Now £159
NEW! In just a few weeks' time we'll have the brand new PING G30 line-up in store. We'll be happy to talk you though the new range, which includes woods and irons. So, pop into the shop soon and ask us about PING's latest product; we'll be happy to help.


Have a great weekend and enjoy the rest of the newsletter.
What influences your decision?
The true value of the modern golf ball: Feel
Opening the face of your wedge adds loft, so is a great option when you need quick height. But take your grip after you've opened the face, not before… and use a wedge like Callaway's Mack Daddy 2 Tour Grind. The sole shape lets you open the face while keeping the leading edge tight to the turf.
FIXTURES
Make a note of these dates in your diary

RESULTS
Who has been amongst the prizes this week?

LESSONS
Book a time and let us help your golf game

TIPS
Instruction to help you enjoy better golf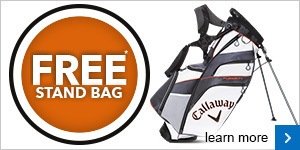 Contact us
Preston Golf Club
Fulwood Hall LaneFulwood
Preston
Lancashire, PR2 8DD

Tel: 01772 700022
Fax: N/A
Join Our Mailing List
Please click here if you want to stop receiving emails from

Andrew Greenbank