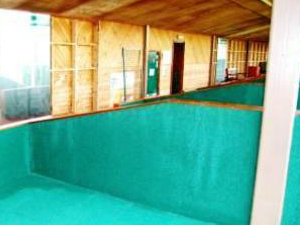 The practice facility at Preston Golf Club has been purpose built to fulfil all golfing desires, in a fun and friendly environment.

The facility includes a 17 bay driving range, fully food-lit and carpeted creating an all year-round golfing experience.

The range boasts large spacious bays with soft astro-turf mats helping to provide our clients with a comfortable environment to relax and practice.

Recently installed mirrored area's on the range allow our clients to check their set up and swing lines without having to leave their driving bay. Each bay also has 4 various sized tees to suit individual requirements.

The fully drained outfield has 2 large baskets at 50 and 75 yards for approach play practice with distance boards from 50 yards up to 250 yards placed at 25 yard increments. At 250 yards in length and playing into the prevailing wind the range presents an extensive landing zone for even the more accomplished golfers.